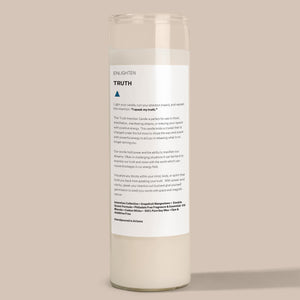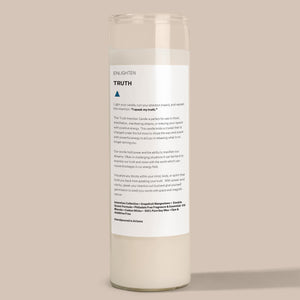 On Sale
Affirmation Intention Candle
Speak your truth
Our Intention Candles are hand poured in 14oz glass pillars. A total of five in the collection, each one has a unique mantra and quartz crystal charged under the full moon. This collection is aimed to bring light and ceremony into your daily life. Keep on nightstands, altars, desks, or any place that holds meaning for you.
The Truth Intention Candle is perfect for use in ritual, meditation, manifesting dreams, or imbuing your space with positive energy. This candle holds a crystal that is charged under the full moon to infuse the wax and scent with powerful energy to aid you in releasing what is no longer serving you.
Truth Mantra: "I speak my truth"
Our words hold power and the ability to manifest our dreams. Often in challenging situations it can be hard to express our truth and vision with the world which can
cause blockages in our energy field.
Visualize any blocks within your mind, body, or spirit that hold you back from speaking your truth. With power and clarity, speak your intention out loud and give yourself permission to wield your words with grace and magnificence.
This affirmation intention candle is intuitively paired with our Grapefruit + Mangosteen scent.  
Key Ingredients
Key Ingredients
100% Pure Soy wax
For a clean, even burn
Natural Cotton Wicks
For a soot free burn, steady flame and high scent throw
Double the Scent Load
For imbuing your whole space
Blown Glass Tumbler
For a clean and balanced burn
How to Use
01
Trim wick to 1/4" before the first burn.
02
Achieve a full melting pool across the vessel.
03
Gently blow out the candle, let it cool and trim the wick for the next burn.
Phthalate-Free + Prop 65 Compliant
Free of petroleum, dyes, + additives
Candles made cleaner to enlighten your space and enliven your spirit.