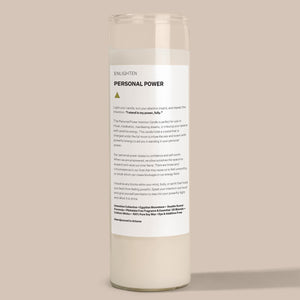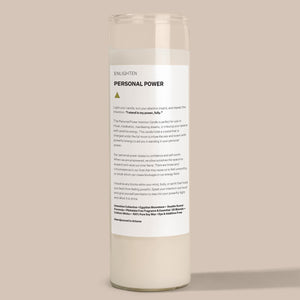 On Sale
Personal Power Intention Candle
Harness your personal power
Our Intention Candles are hand poured in 14oz glass pillars. A total of five in the collection, each one has a unique mantra and quartz crystal charged under the full moon. This collection is aimed to bring light and ceremony into your daily life. Keep on nightstands, altars, desks, or any place that holds meaning for you.
The Personal Power Intention Candle is perfect for use in ritual, meditation, manifesting dreams, or imbuing your space with positive energy. This candle holds a crystal that is charged under the full moon to infuse the wax and scent with powerful energy to aid you in standing in your personal power.
Personal Power Mantra: "I stand in my power, fully" 
Our personal power relates to confidence and self worth. When we are empowered, we allow ourselves the space to expand and value our inner flame. There are times and circumstances in our lives that may cause us to feel unworthy or small which can create blockages in our energy field.
Visualize any blocks within your mind, body, or spirit that hold you back from feeling powerful. Speak your intention out loud and give yourself permission to step into your powerful light and allow it to shine.
 This intention is intuitively paired with our Egyptian Moonstone scent. 
Product Information

Our Personal Power Intention Candle holds a unique quartz crystal that is charged under the full moon to infuse the wax and scent with powerful energy to aid you in ritual or meditation.

Each candle is responsibly made for complete peace of mind.

Eco-friendly
Double scent formula
Premium fragrance and essential oil blends
Non-gmm 100% pure soy wax
Zero dyes, additives, phathalates or parrafin
Lead-free cotton wicks
Vegan & cruelty-free
Hand-poured in recyclable glass tumblers
Made in small batches in Arizona
Female owned & founded
How To Use

Use

Determine your goal or intention
Find a quiet place to light your candle
Hold the candle in your hands to energetically charge it
State your intention out loud and then light the candle
Sit in front of your candle with your eyes closed
Take a few deep breaths
Begin to visualize your intention coming to life
Take as long as you need

Care

Every time before use, trim your wick to 1/4". Use a wick trimmer for nice clean cuts and to maintain the integrity of the wick.

Light a match and burn the candle for 3-4 hours. If you need to put it out, it is best to snuff it out rather than blowing it out. The motion of putting out the candle can release the intention.

Find more details in our Candle Magic 101.
Ingredients

Every ingredient in our clean burning intention candles are thoughtfully and intuitively curated with a premium blend of phthalate-free fragrance and essential oils with double the scent load to yield the best results.

We use 100% pure, non-gmm soy wax and proudly hand-pour each candle in our factory in Arizona near the Prescott Mountains.

All candles are Prop 65 compliant.
Shipping & Returns

Shipping

We currently ship to the US only with FREE SHIPPING on all orders—so why not order a few candles? Orders will be delivered within one week of your purchase date.

Because we care about Mother Earth too, our team carefully packs and ships each candle from our factory in Arizona using eco-friendly, biodegradable packing peanuts made from natural non-toxic sources that dissolve in water.

Returns

We believe in the quality of our product! We will accept returns on any unused product. Candles must not be burned and diffusers unopened and reeds dry. Customer is responsible for covering the shipping cost and return items must not be damaged upon receipt at our warehouse.

If your candle is damaged during delivery, it's not a problem. Send us a photo along with your order number at hello@enlightencandlesarizona.com and we'll take care of you.

Find more details in our Candle FAQ.
Key Ingredients
Key Ingredients
100% Pure Soy wax
For a clean, even burn
Natural Cotton Wicks
For a soot free burn, steady flame and high scent throw
Double the Scent Load
For imbuing your whole space
Blown Glass Tumbler
For a clean and balanced burn
How to Use
01
Trim wick to 1/4" before the first burn.
02
Achieve a full melting pool across the vessel.
03
Gently blow out the candle, let it cool and trim the wick for the next burn.
Phthalate-Free + Prop 65 Compliant
Free of petroleum, dyes, + additives
Candles made cleaner to enlighten your space and enliven your spirit.
Total 5 star reviews: 1
Total 4 star reviews: 0
Total 3 star reviews: 0
Total 2 star reviews: 0
Total 1 star reviews: 0
100%
would recommend this product
Beyond Outstanding

The Intention Candle line is truly worth the price, as what you are getting is a large version of one of their signature scents mixed with full moon consecrated crystals at the bottom, and meditation guidelines inscribed on the label, set to a specific intention.

I selected this candle because I was about to undertake a new project and needed the reminder of my own personal power over it, and this candle has done wonders to help me align to that intention. On top of that, the same exceptional hand-poured quality wax, wick, and double scented fragrance oil that are standard with Enlighten Candles sets the perfect scene for getting into a meditative state without worrying about VOCs, chemical smells, messy soot, or unevenly burnt wax along the glass pillar. (Make sure to heed the call of candlemakers everywhere and keep the wick trimmed to 1/4" prior to lighting!)

The intention of this candle, along with it's Egyptian Moonstone scent, which is alluring and seductive without being overpowering, are both exceptional additions to my life and just what was needed.

After being very impressed by a candle of theirs from Whole Foods years ago, Enlighten Candles is hands down my absolute favorite candle company and I shop exclusively from them. This particular candle is highly recommended for personal use or as a gift, particularly for someone who needs upliftment, or a reminder of everything they're capable of.

Bonus tip: The soy wax in all EC candles makes an excellent occlusive,…
Reviews Loaded
Reviews Added