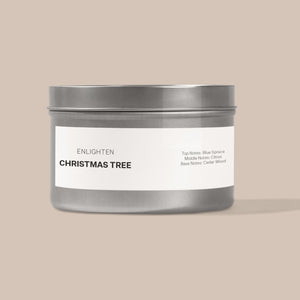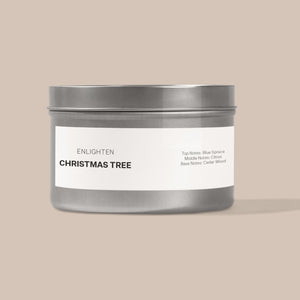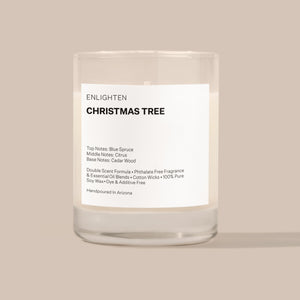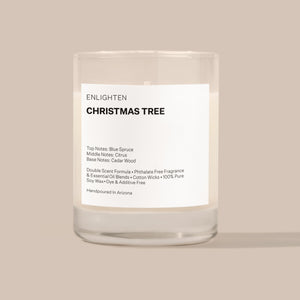 On Sale
Christmas Tree Scented Candle
Pine forest, freshly decorated tree, and a cool winter breeze
12oz tumbler burns for 50-60 hours.
8oz tin burns for 30-40 hours.
Fill your home with joy this winter. For a limited time, share our Christmas Tree scented candle with friends and family. Notes of eucalyptus, mint, cypress, pine, Tonka bean and smoke are masterfully blended with 100% non-gmm soy wax for a clean burn.
Top notes: Eucalyptus and mint
Middle notes: Cypress and Pine
Base notes: Tonka Bean and Smoke
Double Scent Formula • Phthalate Free Fragrance & Essential Oil Blends • Cotton Wicks • Non-GMM 100% Pure Soy Wax • Dye & Additive Free

Key Ingredients
Key Ingredients
100% Pure Soy wax
For a clean, even burn
Natural Cotton Wicks
For a soot free burn, steady flame and high scent throw
Double the Scent Load
For imbuing your whole space
Blown Glass Tumbler
For a clean and balanced burn
How to Use
01
Trim wick to 1/4" before the first burn.
02
Achieve a full melting pool across the vessel.
03
Gently blow out the candle, let it cool and trim the wick for the next burn.
Phthalate-Free + Prop 65 Compliant
Free of petroleum, dyes, + additives
Candles made cleaner to enlighten your space and enliven your spirit.