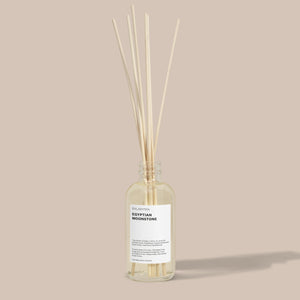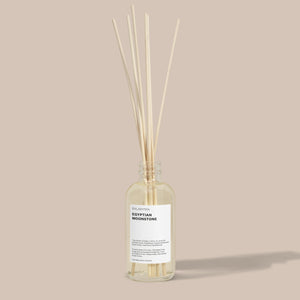 On Sale
Egyptian Moonstone Reed Diffuser
Allure, drinks and dinner by candle light, enchantment
A union of the most alluring scents — our Egyptian Moonstone reed diffuser shifts attention back to the senses, provoking intrigue. Intoxicating base notes of jasmine and sandalwood leave a lingering impression. Most of all, it's made using premium, phthalate-free fragrance and essential oil blends with absolutely no dyes or additives for a clean, eco-friendly flame-free scent and true peace of mind.
Top notes: Ozone, Jasmine
Middle notes: Leather, Patchouli, Sandalwood, Tonka Bean
Base notes: Amber, Musk, Powder
Double Scent Formula • Phthalate Free Fragrance & Essential Oil Blends • Responsibly Harvested Reeds • Dye & Additive Free
Handpoured in Arizona
3.75 fl oz of oil in a 4 oz glass bottle

Key Ingredients
Key Ingredients
100% Pure Soy wax
For a clean, even burn
Natural Cotton Wicks
For a soot free burn, steady flame and high scent throw
Double the Scent Load
For imbuing your whole space
Blown Glass Tumbler
For a clean and balanced burn
How to Use
01
Trim wick to 1/4" before the first burn.
02
Achieve a full melting pool across the vessel.
03
Gently blow out the candle, let it cool and trim the wick for the next burn.
Phthalate-Free + Prop 65 Compliant
Free of petroleum, dyes, + additives
Candles made cleaner to enlighten your space and enliven your spirit.