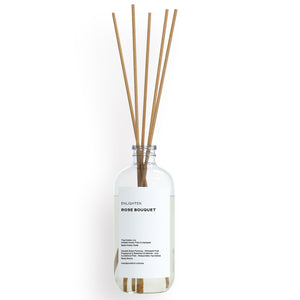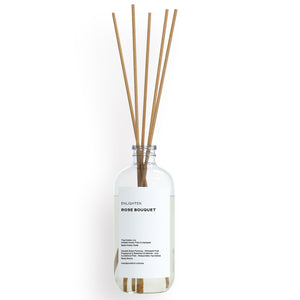 On Sale
Rose Bouquet Reed Diffuser
Freshly cut roses after a light rain, dusk walks, falling in love
A medley of lily, fern, marigold & rose notes remind us that love exists, always. Our classy rose diffuser uses responsibly harvested reed sticks and double the scent load for a clean, eco-friendly, long-lasting & flame-free scent. It's hand poured in small batches near the Prescott Mountains in Arizona using premium fragrance and essential oil blends & absolutely no phthalates or additives for complete indulgence.
Top notes: Lily
Middle notes: Fern and Marigold
Base notes: Rose
Double Scent Formula • Phthalate Free Fragrance & Essential Oil Blends • Responsibly Harvested Reeds • Dye & Additive Free
Handpoured in Arizona
3.75 fl oz of oil in a 4 oz glass bottle
Product Information

We're clean and proud. Our Rose Bouquet Reed Diffuser is responsibly made for complete peace of mind.

Eco-friendly
Double scent formula
Premium fragrance and essential oil blends
Zero dyes, additives, phathalates or parrafin
Responsibly harvested reeds
Vegan & cruelty-free
Hand-poured in small batches in Arizona
Female owned & founded
How To Use

For best results, place your reed diffuser atop a surface in an area where you and your guest frequently walk by. Every few days, flip all or some of the reeds for more fragrance.
Ingredients

Every ingredient in our eco-friendly reed diffusers are thoughtfully and intuitively curated with a premium blend of phthalate-free fragrance and essential oils with double the scent load to yield the best results. These blends are more sustainable to produce and allow us to create more complex scent profiles.
Shipping & Returns

Shipping

We currently ship to the US only with FREE SHIPPING on all orders—so why not order a few candles? Orders will be delivered within one week of your purchase date.

Because we care about Mother Earth too, our team carefully packs and ships each candle from our factory in Arizona using eco-friendly, biodegradable packing peanuts made from natural non-toxic sources that dissolve in water.

Returns

We believe in the quality of our product! We will accept returns on any unused product. Candles must not be burned and diffusers unopened and reeds dry. Customer is responsible for covering the shipping cost and return items must not be damaged upon receipt at our warehouse.

If your candle is damaged during delivery, it's not a problem. Send us a photo along with your order number at hello@enlightencandlesarizona.com and we'll take care of you.

Find more details in our Candle FAQ.
Key Ingredients
Key Ingredients
100% Pure Soy wax
For a clean, even burn
Natural Cotton Wicks
For a soot free burn, steady flame and high scent throw
Double the Scent Load
For imbuing your whole space
Blown Glass Tumbler
For a clean and balanced burn
How to Use
01
Trim wick to 1/4" before the first burn.
02
Achieve a full melting pool across the vessel.
03
Gently blow out the candle, let it cool and trim the wick for the next burn.
Phthalate-Free + Prop 65 Compliant
Free of petroleum, dyes, + additives
Candles made cleaner to enlighten your space and enliven your spirit.