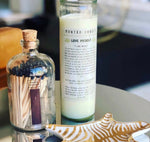 Clean Candles, it sounds good right? But what actually makes a candle clean? At Enlighten we take pride in creating the cleanest candles with the best scent throw so you don't have to make any compromises. We have broken down our clean candle ingredients below. 
Clean Candle Ingredients
100% Pure Non-gmm Soy Wax
Our clean candles are made from 100% pure non-gmm soy wax. Almost all soy wax in United States is now genetically modified, 98% in fact-- meaning the soy has gone through many processes and contains many chemicals and pesticides.
Our non-gmm soy wax contains no fillers, preservatives, or genetically modified materials (GMM). The soy wax goes through a process where the genetically modified materials are extracted out, separating the protein from the oil. Each batch of wax is then tested using the PCR test methord for any GMMs and is certified GMM free before it is sold.
Phthalate- Free Oil Blends
Phthalates are chemicals that are used as a solvent and are found in most fragrances (perfumes, candles, bath and skin products) and household cleaning supplies.
Our fragrances are phthalate free and blended with essential oils, creating a clean burn for your home.
Prop-65 Compliant
Our candles are Prop-65 compliant, meaning they do not contain any chemicals that are harmful or toxic as certified by the state environmental board. 
Cotton/Paper Wicks
Our wicks are lead free containing only paper/cotton blend to create a safe and clean burn. The wick is an important characteristic of the candle, so we made sure to use the best quality.
No Fillers and Necessary Ingredients
Many candles and wax blends contain parabens, petroleum, dyes and other fillers for aesthetic and appearance purposes. Our candles are free of any unnecessary ingredients and fillers; we only keep the clean ingredients that make our candles great.