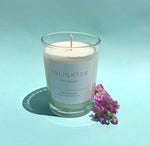 Our Rose Bouquet candle not only smells heavenly, but it also helps to connect you to your heart center. Rose oil is known to aid in self love, compassion and opening the heart chakra. Rose also relates to the planet Venus, which rules all things love, sensuality, and abundance.
When burning our Rose Bouquet Candle, you connect with this Venusian energy which aids in opening your heat chakra to enable you to live a more heart centered life. Rose encourages you to become more receptive, more compassionate and in turn attract more abundance.
A simple ritual to tap into the beautiful Rose energy.
1. Before lighting your candle, sit and take a few deep breaths, holding the intention of self love and acceptance in your mind's eye. 
2. When you feel ready, open your eyes and light your candle with the intention still in mind. 
3. Allow your candle to burn with the beautiful aroma imbuing your space and reminding you of your own inner beauty and self worth.
4. When you are ready, blow out your candle, again holding your intention in your mind's eye. Express gratitude and so it is!