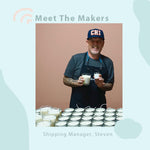 This week on Meet the Makers: Steven, Shipping Manager 
What do you do at ECA?
Superb Shipping Manager
Favorite Candle/Scent?
Create Pomegranate Cider Mantra is my favorite!
How do you #getenlightened?
I get Enlightened by lighting my candles, sitting in my favorite chair, and reading.
Favorite thing to do on the weekend?
Our favorite thing to do on the weekends would be going out into our beautiful backyard of nature. Exploring our area and finding new trails to take our friends is definitely one of my favorite things