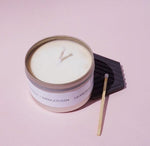 You've just purchased your first Enlighten Candle and can't wait to try out the magic! Before you #getenlightened, a few tips to enhance your candle burning experience. 
TRIM THE WICK
Trim your wick to about 1/4" before lighting. Our wicks are designed to curl as they burn and this allows you to easily cut or flick the wick with your fingers after it burns and cools. This keeps it short in between your burns.
FIND THE PERFECT SPOT
Find the perfect place to light your candle. You will want a flat, clean surface, away from kids or pets and to avoid windows or drafts. 
TIME THE BURN
For your first burn and best results, make sure you keep the candle lit for at least 3-4 as this will set it up to burn more evenly each time. When you burn your candle for only short periods of time and then blow it out, it creates a narrow burn pool which means the wax will not melt all the way across the candle creating a tunnel in the wax. If you don't have 3-4 hours to burn your candle, don't fret! This does not affect the burn time, quality or the scent of your candle. Burn your candle whenever you feel in the mood. We make the candles so you can infuse your space with beautiful blossoms.
CANDLE BURNING DON'TS
Don't leave your candle unattended 
Don't touch or play with the wax. This could make the wax uneven and affect the burning
CANDLE BURNING DO'S
Burn, enjoy, and envision the magic from the candle infusing your home. Repeat often.
Go on, get Enlightened!