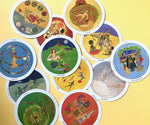 August is here! Its the end of eclipse season and the beginning of Leo season. This month ushers is change and action with a dose of that fiery Leo passion. Read below to find out your Tarotscope for the month and recommended candle to help empower you to navigate the energies of August.
1. Leo: Three of Wands
This month is about assessment. The number three in Tarot often represents a cycle completion and action to begin again. Where were you three years ago and where are you going for the next three? Now that you have come through the portal of eclipse season, it is time to look ahead to the horizon, what passions are calling to you in this new cycle? Take time this month to imagine, create and play as you co-create your life with the universe.
Candle: Create Mantra
What better candle to help you to consciously co-create with the universe? Set your intention and light this candle all month long to help you bring your ideas to fruition. 
2. Virgo: Son of Wands
This Month you are being encouraged to view the world through the eyes of curiosity and levity. The Son of Wands is ruled by Earth and Fire. Earth represents the material and physical realm, while fire represents passion, creativity and life force. How can you expand your perspective and view of these two realms? How can you create more security and abundance in your life? How can you become more creative and expressive? The son is the youngest in the court cards, he is not afraid to play, explore and even make mistakes. He is urging you to be free and lighthearted this month in your pursuits in order to tap into your own abundance. 
Candle: Pomegranate Cider
This candle has the sweet notes of apple and pomegranate, but also the earthy and subtly spicy notes of cardamom and nutmeg. As you light it, the fusion of these notes will remind you of the Son of Wands message, of the earth and fire energies coming together to create abundance.
3. Libra: The Sun
This month it is your time to shine. You have made through the watery depths of Eclipse season and you are ready to stand in your light. The Sun is a sign of confidence, new beginnings and rebirth. It has illuminated the darkness and reveals your highest and best, allowing you to harness your full potential. This month the Sun is encouraging you to be reminded of your inner light and your inner vigor. You have what you need  to take you to where you want to go. Do not dim your inner fire, allow it to fill you up, warm your core from the inside out and empower you to move ahead into this next phase of your life. 
Candle: Orange Blossom
Oranges are like liquid sunshine, harnessing the warmth and life giving energy of the sun. When you light this candle, envision you are channeling the energy of the sun. Use it to ignite your inner fire and imbue your home with its radiance. 
4. Scorpio: Two of Cups
This card is an invitation and an opportunity of connection. It can be connection with someone else- romantically, platonically or a connection with yourself. The number two represents duality, opposites and attraction. This card represents an opening to make an emotional connection, to create a relationship that is mutually beneficial. As you go through this month, how can you open yourself up? How can you tap into your emotions to allow space for these connections? Again, it can be with yourself-- accepting parts of your self and creating harmony and alignment within or can it be external relationships as well. Open your heart and see where it takes you.
Candle: Rose Bouquet
Rose is related to the Heart Chakra. Lighting this candle will help you to tap into this heart centered energy and empower you to live heart first. It is in the space that we can then be open to new connections and opportunities. 
5. Sagittarius: The World
The World represents completion, fulfillment, the final phase. Ruled by Saturn, the planet of hard work, discipline and challenges, The World is encouraging you to revel in the phase that you are in, to revel in the end of this cycle before you are birthed into the next. There is a slight feeling of pressure or contraction, one final push before you can be pushed out into a new cycle. Its the celebration of an ending and the excitement of a new beginning. The transition between the two is necessary and sacred. This month, pay attention to these moments within your life-how can you allow yourself to be birthed into the next phase?
Candle: Release Mantra
This Mantra is excellent for helping us to shed what is no longer serving. It allows you to let go so you can move forward. Light this candle with your intentions to help you appreciate what you have and where you are going. 
6. Capricorn: Ace of Discs
This month is an invitation for an opportunity to create stability, security and abundance. How can you open yourself up to the material realm? How can you explore your ideas around money and abundance? The Ace is offering you an invitation this month to connect with the earthly realm. Be on the look out for job opportunities, new ways to attract money, and to redefine your idea of security. 
Candle: Personal Power Mantra
This candle is great for tapping into your personal power and helping you to feel confident, grounded and secure. Set an intention and light this candle all month long to attract abundance and security. 
7. Aquarius: Shaman of Wands
The Shaman of Wands is a double fire card. He is the master of his desires, creativity, passions and life force. He is charming, witty, a master manifestor and in full alignment with his soul purpose. This month, he is encouraging you to harness his fiery energy. How can you become a master of the fire element? How can you connect with your own life force energy to create and share with the world? 
Candle: Energize Mini Meditation
This candle helps to empower you to tap into your life force energy. Burn this candle all month with the mantra in mind: allow your heart and mind to dance in synchronicity.
8. Pieces: The Hierophant
This month you are encouraged to trust your own wisdom as your best teacher. You have all you need within you. You are a divine being and this card is encouraging you to explore your own inner depths. It is a sacred time to review your beliefs, what you have been taught and conditioned to believe by society. It is a time to reevaluate if these ideas align with your truth. Use this month as a time for deep reflection and deep diving into your inner worlds.
Candle: Truth Mantra
This Mantra candle is a great tool in helping you to connect with your inner truth. Set your intention and light this candle all month long. 
9. Aries: Nine of Discs
This month Aries, it is time to revel in the fruits of your labor. You have worked hard and with hard work, comes a time to appreciate and express gratitude for all that you have built. You have leaned on your drive, determination, and fortitude to build a life that is secure and full. Take some time this month to reflect on your hard work, and appreciate all that you have created. Continue to play in your work, believe in yourself and keep on building. 
Candle: Roadrunner Medicine
This candle is excellent for helping you get tasks done, for communication and to keep on keepin' on. Set your intention and light this candle all month long.
10. Taurus: Son of Discs
This month is all about finding your footing and your focus. How can you fuse you thoughts and mind with a rooted and strong foundation? The Son of Discs is ruled by Air and Earth, encouraging you to remain grounded, but also to explore the airy world of your mind. How can you turn your thoughts and ideas into something that is practical, stable and effective in the material realm? The Son encourages play and curiosity, without fear of mistakes and learning each step of the way. 
Candle: Crocodile Medicine 
This candle is great for helping with growth, patience, and strength. Light this candle to give you the patience and strength when exploring your ideas and bringing them to fruition. 
11. Gemini: Strength
This month is all about examining and understanding strength. Often in our society we are taught that strength is hard, stiff, and aggressive. But in actuality, true inner strength comes from within; it is soft, compassionate and reciprocal. This month you are invited to reevaluate your understanding of strength and to see the beauty in vulnerability and softness. It takes great courage to be soft and vulnerable, to work alongside forces and things that scare us, rather then trying to control them. This card is here to remind you that you have the inner reserves needed to persevere, you just have to open yourself up.
Candle: Intuition Mantra
This candle encourages you to trust your intuition and inner voice. Allow your intuition to guide you into finding your strength this month.
12. Cancer: Priestess of Swords
The Priestess of Swords is the master of communication and boundaries. She uses her words wisely and effectively, without haste or anger. She has tempered water, her emotions, and air, her mind. She invites you to tap into her energy, to examine your emotions and thoughts this month. How can you temper them and balance them so they can work for you, rather than against you? She is steady, calm and collected, and always garners respect from others. How can you be more like the Priestess this month?
This scent is soothing and relaxing. When you light it, it will help to center and ground you so you can become centered in clarity of the mind and clarity of speech.